Events Information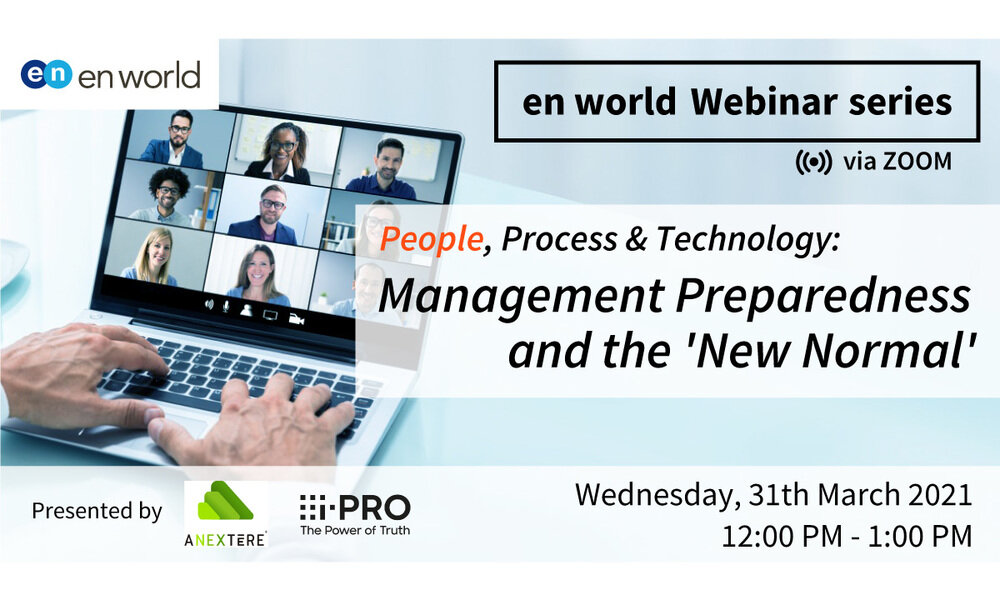 | Details
As introduced in our debut webinar for 2021 back in January, en world and Anextere strongly believe that the key to thriving through crisis is founded in a fundamental approach to getting 3 things right:
"People, Processes & Technology"
All of us as business leaders in Japan are still wrestling with the challenges brought on by the global pandemic and the "New Normal" that it has ushered in.
The outcomes from that first webinar clearly pointed towards the need for a deeper discourse around the "People" piece, particularly regarding remote management. Especially, middle managers are facing difficulty with the pivot to the new remote-dominant paradigm. As such, our next on-line, interactive panel discussion will feature three distinguished leaders with vast experience supporting other to build and manage teams in both on-line and off-line formats.
Our panelists will share their perspectives on where middle managers often struggle to lead and engage their people here in Japan and how these weaknesses have been exacerbated in a remote setting. They will also share specific, practical ideas that you can implement to help the managers in your organization become better coaches and leaders not only in a virtual-dominated paradigm but in whatever your "New Normal" workplace becomes.
We hope that you will join us for some new insights on people as we look to kick-off the new fiscal year here in Japan!
- Registration has been closed -
| Date & Time
 Wednesday,  31st March
 12:00 PM - 13:00 PM
| Venue
 Online via Zoom
| Participation fee
 Free
| Language
 English / 本セッションは英語となります
| Panelists
 Sachiko Okamoto - Chief Human Resources Officer / Panasonic i-PRO Sensing Solutions
 Misa Yamashita - Professional HR Consultant
 Kevin Riendeau - Founder and CEO / Anextere
| Facilitator
 Kevin Naylor - Vice President / en world Japan