Disclaimer
en world Japan K.K. (hereafter en world) is a recruitment company which maintains a website for the purpose of online job posting and providing recruitment information. en world does not guarantee the accuracy or reliability of such information. en world shall not be liable for any losses that occur as a result of reliance on the information provided. en world may, without prior notice, modify its website content and/or URL. en world does not guarantee that any client will offer any candidate an interview or respond to the candidate's submission of their information.
Copyright/Intellectual Property Rights
Copyrights and Intellectual Property Rights of all contents and information provided by en world belong solely to en world. Use of all contents and information are for personal use only and any other use is prohibited without the written consent of en world.
About Links On Our Website
We may embed links to other websites within our website. Once taken to websites other than those operated by en world, these linked sites are not under the control of en world and en world is not responsible for the content of any linked site or any link contained within a linked site.
Website Usage Data
en world collects usage data for the purpose of improving our service. This data is only used by en world and is never sold to any third party.
Privacy Policy
The privacy policy on en world Japan K.K is here.
Take your English to the Next Level
en world recruitment for mid to high level international business people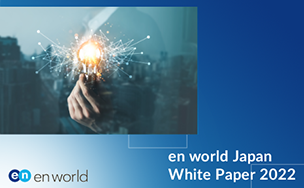 en world Japan White Paper 2022
As one of the largest recruitment firms specialized in global talent in Japan, en world Japan released a white paper entitled "Unpacking Recruitment Market Trends and Job Seekers' Attitudes Toward Changing Jobs After More Than Two Years of the Covid-19 Pandemic" on April 26, 2022 which highlighted mid-career hiring strategies at foreign capital and Japanese global firms.
Download