Events Information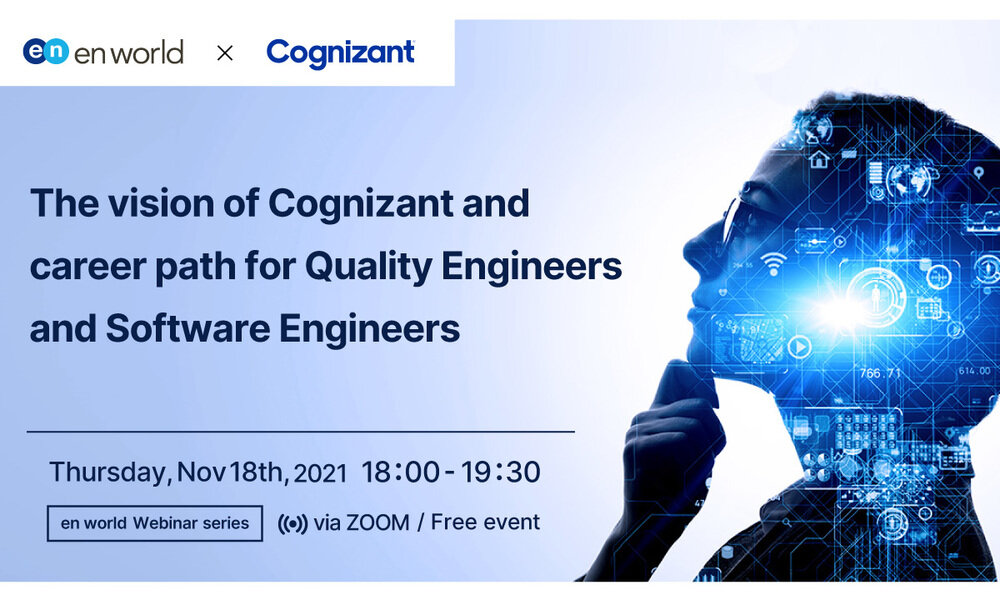 Details
Join us on November 18th as we deep dive into Cognizant's vision in Japan and the career opportunities for Quality Assurance Engineers and Software Development Engineers. You will be able to hear from 3 speakers who are veterans in their field, describing their specialized industry and providing valuable insights.
Cognizant is currently working with top-tier IT companies and providing valuable services to further push the growth of Digital Transformation. If you're interested in this and want to learn more, please join via the RSVP below!
Webinar Topics for discussion:
・Arthur Lim (APAC QEA Head): Quality Assurance Engineers service line (new technologies, key roles our QEA engineers do, differentiating factors, the way forward, and more)
・Eri Asakawa (Japan Delivery Head): Introducing Cognizant (vision, presence, growth, services lines and more!)
・Srikumar Yedavalli (Japan Insurance – Engagement Delivery Partner): Software Development Engineers service line (the role, growth that developers can see at cognizant, few pointers on our insurance practice, key highlights, and more)
About Cognizant:
They are one of the world's leading professional services companies, transforming clients' business, operating and technology models for the digital era. Their unique industry-based, consultative approach, helps clients envision, build, and run more innovative and efficient businesses. Cognizant is on the fortune 500 and is consistently listed among the most admired companies in the world.
- Registration has been closed -
Date & Time
 Thursday,  18th November
 6:00 PM - 7:30 PM
Venue
 Online via Zoom
Participation fee
 Free
Language
 English / 本セッションは英語となります
Panelists